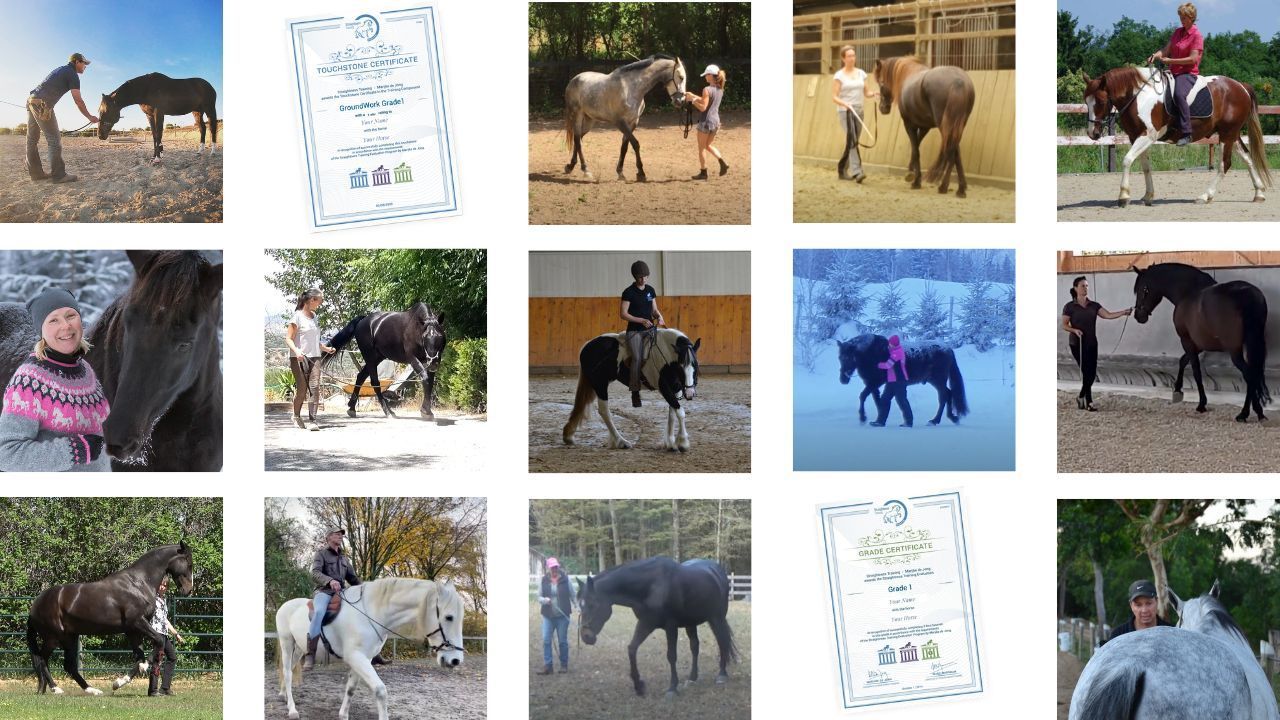 The Key To Success Is Proven Training Schedules
Feeling a little out of your comfort zone?
You're not alone!
And it's a good thing because it means you're willing to stretch yourself.
You have what it takes.
We'll help you find that confidence and get competent.
There are no shortcuts, but if you're ready for real change, we can help you get there!
First, learn how to teach Straightness Training exercises to your horse.
Next, you might be even interested to start teaching it to other people!
What others say...
You don't have to take our word for it, listen to what our students have to say. We're proud of what we're building here.
Callie Klein, USA

"As to participation in the Evaluation program, I have taken on a completely new mindset. In the past, I was very judgmental of myself, looking at my scores and judging myself from a very limited mindset, even though the ST program clearly coaches me not to do that! I really enjoy the process of growing and improving instead of being in achievement mode as I have been in the past.
In the Instructor program, there's this lovely quote by Antoine de Pluvinel, "It's not necessary to remind a pupil every time he makes a 'mistake'. One should do this when the time is right, to not confuse the pupil. Sometimes one should ignore something." Detecting the one important thing to do now has been a huge game-changer for me with Rascl."
Gisela Marnewecke, South Africa

"Suffice to say that when I had read through the program, I was sold. It had everything I had hoped for, and more: it included ideas and concepts from trainers I already admired, a clear breakdown of how to do the exercises, and a huge knowledge base of theory to explain the 'why'.
The balance between the physical, emotional, mental, and spiritual was what really hooked me though, and I felt that here, at last, was a truly comprehensive, holistic training system. In fact, I was so impressed by it that I remember thinking not 'I want to learn this' but 'I want to teach this'.
This year, I have also signed up for the Instructor program and am on the road to realizing my dream of sharing this knowledge with other riders in my area and beyond."
Ivana Kovaříková, Csech Republic

"My ST journey started when I joined the Mastery program in 2017. My then horse Spotty brought me to the Straightness Training program because of his natural asymmetry. We went through all pillars with many Touchstone submits for 2,5 years before our ways parted. I have gained a completely new look at training horses and especially of my skills during that period. The Liberty pillar was quite a challenge for me and Spotty was a great teacher to show me how technical I was.
In 2019, I decided to buy an ex-race Thoroughbred, Tesstino. The Scholars journey has helped me immensely. I needed to change to be able to become a valuable partner for my sensitive horse. I have learned to record myself a few times a month, to schedule to be live at the classes, and to send the Touchstone in at the end of the month.
Thank you to all who are making the Scholars Program and the Instructor Program possible. The vision of helping as many people and their horses as possible has come to realization. I am glad and proud to be a part of it. "
Debbie Watts, USA

"Sukie is a half Percheron draft horse. I couldn't ride in a circle without major imbalance, and I didn't like feeling like I was arguing with her. I needed a better way of communicating and helping her. In mid 2017, I joined the program and have not regretted a single moment.
I love being able to go to my computer and in my time and pace be totally submerged in ST, then go and practice with my horse. The program lit a fire in me! I love how it is designed to both educate and inspire by watching all the video lessons with the great coaches, and is also designed to be a 'go at your own pace', so you don't feel rushed nor like you're missing out. Marijke and her awesome team are super supportive and dedicated to help us get to where we want to be with our horses.
This year, I am also in the Instructor program to become able to share ST with others. I am so grateful to have this opportunity at this point in my life and excited to be furthering my knowledge and skills in Straightness Training."
Program Brochure 
Grab a copy of our enrollment packet


Take the first step to living the life you've always dreamed by  downloading the brochure about the Basic ST Instructor Certification Program:
Download the brochure »
Become a Certified Instructor
A rich and fulfilling career is possible for you
Do you wish you could do what you love, do what you are good at, do what the world needs, and do what you can be paid for?
Our Basic ST Instructor Certification Program is the first step to living the life you've always imagined.
Click below to join the free Masterclass and learn more about our Basic ST Certification Program.
Click here to sign up for the free Masterclass »